Trichos Hair Loss Treatment in Vishakapatnam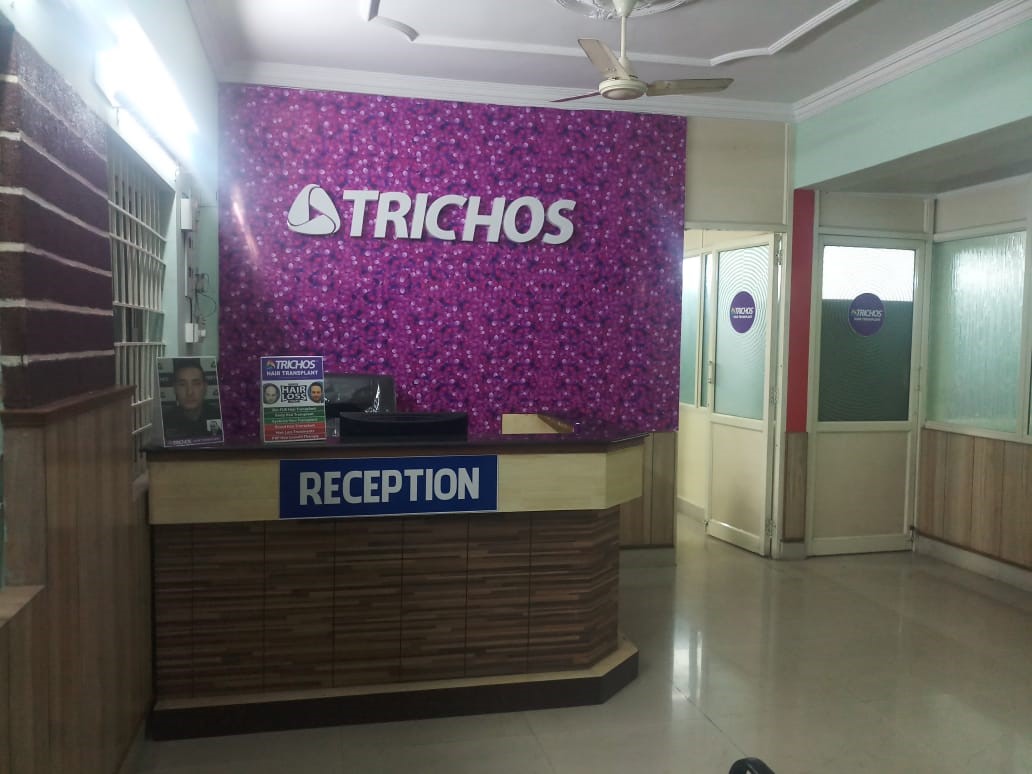 For healthy hair regrowth for alopecia conditions, one needs the services of advanced hair clinics for best results.
Usually one finds the best trichologists with expertise in undertaking complicated hair restoration surgeries stationed in metros, keeping those looking for advanced hair treatments in tier-II cities like Vishakapatnam left out.
Not any more as Trichos now brings its best hair treatment clinic in Vizag the same revolutionary Root by Root hair loss treatment that has become quite a raze in Hyderabad.
Thanks to our team of touring trichologists, Trichos hair transplant in Visakhapatnam is no different in terms of quality compared to what one comes across at our chain of advanced hair clinics in Hyderabad.
Even our permanent Trichos hair specialists stationed at our advanced hair clinic in Visakhapatnam have all the expertise needed to offer the best hair treatment in Visakhapatnam.
Best Hair Treatment in Visakhapatnam
We at Trichos provide the most affordable hair transplant cost in Vizag when compared to what other hair clinics in Vizag offer. If you don't believe, visit us for a second opinion.
For baldness treatment in Vizag, Trichos hair transplant doctors are second to none in their level of professional training & exposure to advanced techniques in undertaking , ,  & hair loss treatment.
Whether hair loss treatment for women or men, female pattern baldness or male pattern baldness, Trichos has the best hair doctors in Vizag for providing customised hairloss solutions.
Advanced Hair Plantation in Vizag: Dr John Hair Transplant
Trichos Root by Root system is the most advanced hair treatment available that ensures zero hair loss transplantation possible with excellent hair implantation results in Vizag.
Innovated by a team of hair doctors in Vizag led by Trichos , Root by Root hair transplant techniques are popular among alopecia patients across all  as they provide unmatched results.
Root by Root Techniques
In this trademarked system of hair transplant, our trichologists in Vizag harvest only the best of the best permanently growing hair roots from the donor region with proven Trichos techniques perfected by Dr John W after years of research.
When these techniques are combined with conventional Bio DHT, fue hair transplant & bio fue hair transplant procedures, what one gets is enviable hair transplant results that stand for a lifetime.
The advanced Root by Root hair restoration techniques offered at Trichos Vizag includes Root by Root Total, Root by Root Dense & Root by Root Exclusive.
Root by Root Total:
In Root by Root Total, Trichos hair specialist in Vizag is focussed on covering up more baldness patches with transplantation of as many permanent growing & best living hair roots as possible.
Root by Root Dense:
Known to be the best hair loss treatment for men, Trichos Root by Root Dense method ensures that the density of hair follicles is retained giving natural-looking healthy hair growth on the scalp.
Root by Root Exclusive:
In this method of hair loss treatment in Vizag offered by Trichos hair experts, best of both the above-mentioned techniques are combined to give the highest quality hair transplant results possible to alopecia patients.
Non Surgical Hair Loss Treatment in Vizag
Thanks to our revolutionary technique of non-surgical hair loss treatment in Vizag, Trichos hair specialists have added a new chapter of hair regrowth treatment to the port city.
Root Bioject Platelet Concentrate
Root Bioject – the most advanced version of PCI hair loss treatment innovated by Trichos founder Dr John W – is now offered at Trichos Vizag.
A brainchild of Trichos founder Dr John W, this non-surgical hair loss treatment system offers a customised solution for thinning hair women looking for advanced treatment for hair loss.
Trichos hair specialists in Vizag also offer other usual non surgical hair treatment solutions including DHT blocker and medication to prevent thyroid hair loss based on a need basis.
For those finding it difficult to access options for our advanced hair treatment in Vizag, Trichos facilitates easy EMI option too.
For a one-to-one discussion about the range of our facilities at Trichos Vizag, book a session with our hair experts in Vizag today.
Srinivas A Vizag
Trichos Root by Root Bio Fue hair transplant procedure has given me excellent results. Thank you, Trichos.
Shreya A Vizag
I got to know about Trichos hair transplant centre in Vizag from one of my relatives. I am very happy with the treatment I received for hair fall prevention here.
Jeevan Rao Vizag
Trichos advanced Root by Root bio fue hair transplant has worked wonders for me as it has given me a new identity. My bald spots are no longer visible. Thank you, Trichos.