Scarless Hair Transplant Surgery in Hyderabad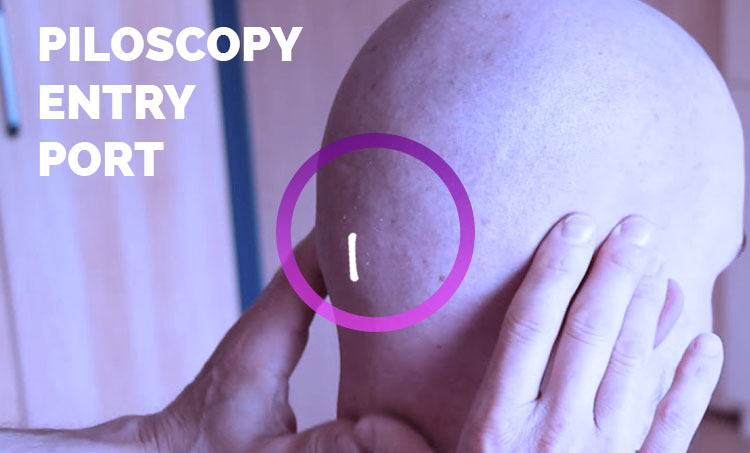 What makes Trichos advanced hair transplant clinics stand out from other hair clinics in Hyderabad is our constant endeavour to keep pace with newer techniques to give one the best hair transplant results.
Piloscopy is the better, faster and easier version when compared to what the conventional fue hair transplant surgery offers.
The former comes with a host of advantages that Trichos hair restoration experts in Hyderabad are well-equipped to make use of this advanced technique.
Known as scarless hair transplant surgery, Piloscopy is the latest entrant in hair transplant science that may most likely revolutionize the way hair restoration techniques are now used.
What is Piloscopy Hair Transplant Surgery?
In piloscopy, the harvesting of hair grafts from the donor site is done in an innovative way from underneath the skin surface to minimise chances of trauma on donor site.
This is the reason this technique is now proving to more effective than fue hair transplant technique.
The best part of piloscopy hair transplant surgery is that it leaves no visible scar marks at the donor site, enabling one to even go for close military style haircut without the possibility of detection.
Advantages of Piloscopy Hair Transplant
The potential advantages of piloscopy hair transplant over fue hair transplant surgery was first described and demonstrated by Dr Carlos Wesley through a presentation at a scientific gathering not very long ago.
When combined with Trichos Root by Root system – a technique innovated by Trichos founder  wherein the best of the best hair follicles are harvested for hair transplant surgery – Piloscopy hair restoration surgery works out to be the best option.
Such is its top-notch quality hair transplant results that it can only be envied.
This state-of-the-art technique – now available at Trichos advanced  – offers several benefits that pale against the hair transplant results possible through fue hair transplant surgery.
The following advantages can be listed out:
The head not be shaved as is customary

Best technique suited for women

No visible scar marks on donor site

Quick wound healing process

Less time-consuming than fue hair transplant

Less labour-intensive than fue

Minimised chances for trauma on skin

Quick grafting time

High graft survival rate when compared to what's possible in fue

Even curly hair can be grafted with ease
For more information about piloscopy hair restoration surgery in Hyderabad, book a consultation with Trichos founder Dr John W today.
Manish K Tarnaka
I was keen that my hair transplant surgery should not leave any visible scar as I always cut my hair short. Trichos provided me with scarless hair loss treatment option. Thank you.
Kranti Reddy A Shamshabad
The Trichos treating surgeon and staff have been very professional from the start. From pre-surgery stage to post-surgical care, I have received the best care. Quite happy with my hair transplant results.
Bhaskar Rao Kukatpally
My search for scarless hair transplant surgery with Piloscopy ended only at Trichos. The results look promising, but I will have to wait for some more time to understand its full impact.