Advanced Bio Fue Hair Transplant in Hyderabad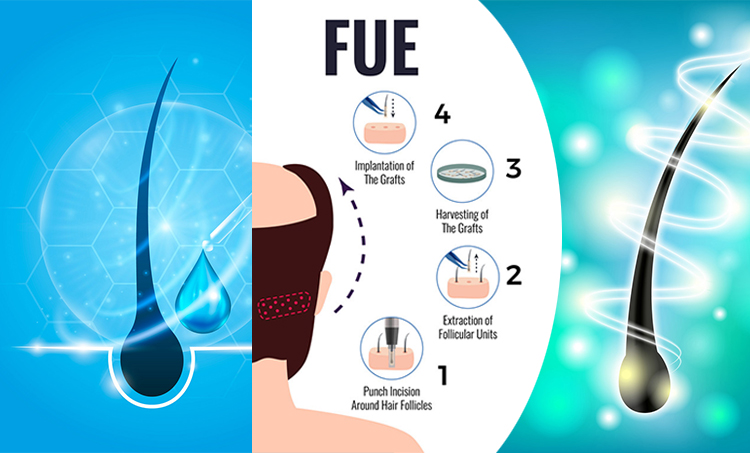 Trichos' advanced bio fue hair transplant surgery in Hyderabad continues to be the most favoured procedure for hair loss treatment for men.
If one reads Trichos hair transplant clinic review, one may find the unmistakable proof that patients first choice in treating androgenic alopecia happens to be bio fue hair transplant as it offers excellent hair implantation results.
The traditional fue hair transplant is now passe as Trichos has long innovated this with its Root by Root system of advanced hair loss treatment, courtesy our team of best trichologists in Hyderabad.
Root by Root system ensures excellent hair transplant results unmatched by any other 
Trichos innovation in Bio Fue Hair Transplant
There are only a handful of advanced hair treatments that are as sought-after as Trichos bio fue hair transplant.
Reason: The hair replacement method one gets with Trichos bio fue hair transplant is an amalgamation of our two trademarked techniques – Root by Root system and Root Bioject, our advanced PCI treatment for hair loss.
For natural hair regrowth, Root Bioject ensures best hair treatment in Hyderabad as this advanced PCI hair treatment combines with Trichos Root by Root technique of hair implantation.
In Root by Root system – which comes in three different variations including Root by Root Total, Root by Root Dense and Root by Root Exclusive – Trichos hair experts harvest the best of the best permanent hair follicles from the donor region before transplantation on the recipient site.
But, before that, the best hair follicles harvested from the donor region are treated with Root Bioject growth serum to give one excellent PCI treatment for hair loss.
Root Bioject growth serum is obtained using blood separator technology with one's own blood that facilitates healthy hair regrowth besides faster recovery for wound healing on the scalp.
Not surprisingly, it makes Trichos bio hair transplant procedure serviced by our experienced trichologists the best hair treatment in Hyderabad as it provides flawless hair transplant results.
Book a session with Trichos to know more about our bio fue hair transplant-based affordable hair loss solutions at our clinics in Hyderabad.
PCI : Platelet Concentrate Injection
Sudheer S Lak-di-ka-Pul
It's value for money at Trichos, especially its bio fue hair transplant procedure. This is the best procedure offered by Trichos. The results were amazing in my case. Thank you, Trichos.
Jeetu K Himayatnagar
Besides his rich experience and knowledge, the down-to-earth approach of Dr John is the actual USP at Trichos. He is the best surgeon for undertaking bio fue hair transplant procedure in Hyderabad.
Satyendra Choudhary Tarnaka
I shortlisted Trichos hair transplant centre for undergoing fue hair procedure only after hearing positive reviews about it from my friends. I can say with confidence that it is the best hair clinic in Hyderabad that offers affordable services. Thank you, Trichos.