Best Burn Scar Alopecia Treatment in Hyderabad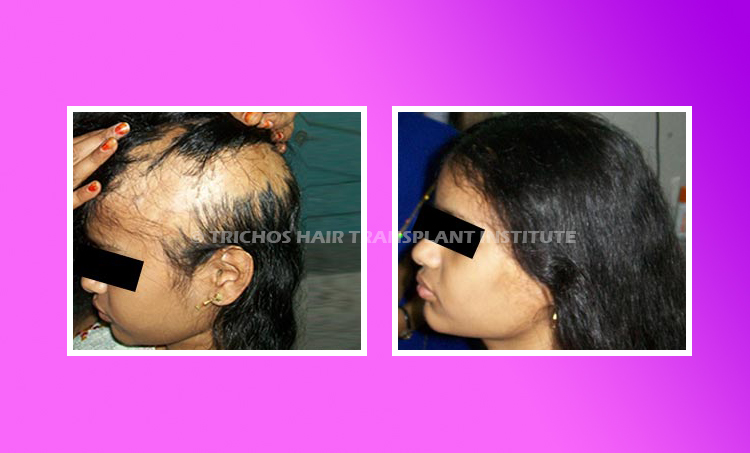 No one can have control over accidents.
Some happen out of the blue that makes one seem the damage is irreversible, but it need not always be in the case of burn scar alopecia.
We at Trichos provide result-oriented surgical solutions for burn scar treatment in Hyderabad with our trademarked Root by Root fue hair transplant solutions come in handy for several types of burns induced hair loss conditions.
In case a surgical solution for burn scars is not workable, our hair restoration doctors in Hyderabad can explore non-surgical options depending upon the severity of the burn scars & availability of donor hair.
Be it eyebrow, eyelash, beard or scalp hair loss, burn injuries can affect a patient both psychologically and physically if burn scar alopecia conditions are not treated at all.
More than correcting the visual appearance, one's self-esteem can go for a toss if one keeps one's eyebrow burn scar alopecia or moustache burn scar alopecia as it is after accidental burns.
Burn Scar Alopecia Treatment: Process
Burn scar alopecia treatment requires the expertise of a very high order that Trichos hair transplant surgeons in Hyderabad provide.
Immediately after burns induced hair loss, hair transplantation surgery is not advisable as scars need to be mature enough to withstand the grafting process.
If the burn scars keep its pink hue, it's a hint that the wound is still fresh on the scalp. In such a scenario, the grafting process will increase blood loss from the recipient site even though the technique for burn scar treatment used is Trichos' Root by Root advanced fue hair transplant process.
We at Trichos always ensure that there are no adverse hair transplant side effects when burn scar alopecia treatment is undertaken on the recipient site.
This is made possible when the hair transplant procedure is taken up after the scars turn mature and not before.
Though local anaesthesia is administered during burn scar treatment using Trichos Root by Root fue hair transplant, the procedure may need to be repeated with many sessions for best hair transplant results.
Non-surgical burn scar alopecia solutions
If there are no donor hairs for harvesting, burn scar treatment may not be undertaken through surgical mode at all. The only solution in such a scenario is to go in for artificial hair restoration methods.
They include hair art or micropigmentation technique that can very well mimic natural hair to cover up burn scar alopecia.