Best Fue Hair Transplant in Hyderabad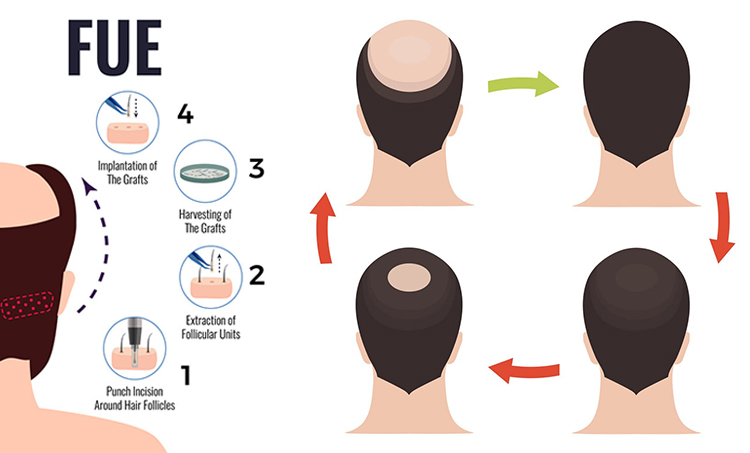 If you are looking for flawless fue hair transplant results in Hyderabad, stop wracking your brain.
Straightway head to Trichos as our expertise is unarguably better than the services that other hair transplant clinics in Hyderabad offer for thinning hair men.
Though fue hair transplant is regarded as the mainstay of the hair transplant industry, rapid technological advancements have seen constant improvisation by the best hair replacement doctors to give it the most favoured status.
For instance, Trichos Root by Root system of hair follicle harvesting & grafting is an improved version of the conventional fue hair transplant that has now emerged as one of the best hair loss treatments.
It has the perfect amalgamation of quality & affordability.
What is fue hair transplant?
Fue stands for Follicular unit extraction, the proven hair transplant technique popular across the world. This procedure is akin to what one understands by a minimally invasive technique.
It may not be an overstatement to mention that more than 95% of hair transplantation taking place across  could be fue technique.
But, it is likely that it a small proportion of fue surgeries might be improvisations like what Trichos now offers with its Root by Root system of hair transplantation.
The beauty of fue hair transplant service is that there is no incision on the scalp, giving one natural looking & real hair transplant results.
Known to be a better alternative to the outdated  (FUT) that involves harvesting several follicular units from the donor region in one go, Fue approach of hair transplantation is entirely different.
If one needs a sophisticated version of fue that Trichos offers with three different options for Root by Root system, one may need the expertise from the best hair transplant surgeons in Hyderabad.
Reason: It involves the surgical extraction of a singular follicular unit from the donor region using a very small punch size.
In one follicular unit, there could be around one to four hair roots that would need to be extracted from the donor scalp with a punch of about 1 mm in size, giving one real hair transplant results.
If you intend to undergo the most advanced fue hair transplant in Hyderabad, Trichos expertise has no parallel as our Root by Root system involves hair experts harvesting the best hair roots with their intricate blood vessels intact for transplantation.
Fue Hair Transplant Technique: Advantages
There is always the fear of an exposed scar if you are to undertake a FUT hair transplant but there is no such possibility with fue.
The beauty in fue hair transplant results is that it leaves no visible scar after the hair restoration process. Even a keen observation does not leave any chance for one to detect scar marks on the scalp.
This is not all as the other hallmark of fue hair transplant that Trichos hair transplant experts in Hyderabad have innovated with Root by Root system is that there is no need for any suturing, no wounds, no scars and no pain.
Steps in Trichos fue hair transplant in Hyderabad
The first step involves reporting to any of our three Trichos hair transplant centres in Hyderabad (,  and ) or our lone centre at . This is followed up with a detailed hair loss analysis with our state-of-the-art Root Cause diagnosis technique soon after the consultation process accompanied by a physical examination gets over.

Type of Hair Session

Based on the cause of hair loss zeroed in on with Trichos Root Cause technique and the extent of hair loss treatment needed, our experts finalise the type of hair session one needs to undertake.When it comes to mega hair session, one could go up to 4,000 hair grafts in a patient but in a Giga hair session, anywhere between 4,000 to 5,000 hair grafts can be extracted from donor scalp to give alopecia patients real hair transplant results.
Type of Root by Root technique

The formula behind Trichos' excellent fue hair transplant results is in its Root by Root technique, the innovated version of the conventional fue hair transplant that is the brainchild of Trichos founder and well-known hair transplant surgeon We offer three different versions: Root by Root Total, Root by Root Dense and Root by Root Exclusive but what would you choose?

Photographs for mapping baldness history

This is done for visual documentation of one's baldness history with old photographs of family and self for our hair restoration surgeons to confirm or rule out androgenic alopecia condition.This will help Trichos hair transplant centre experts in making an accurate analysis of how hairline marking would shape up.

The other use of photographing the receding hairline is to make a comparative analysis of hair transplant before and after.

Hairline Marking

The way hairline marking is done gives one either a natural looking hair transplant or an altogether different look depending upon how an experienced hair restoration surgeon is.When it comes to hairline marking, the skill of Trichos hair transplant specialist is unmatched, giving an alopecia patient natural looking hair implantation result.

Marking of Donor & Recipient regions

 

The next step on the way to the perfect hair line treatment in Hyderabad at Trichos centres is for our hair restoration surgeons to accurately mark the donor and recipient regions of the scalp.This is a mandatory pre-surgical step undertaken before fue hair transplant process at Trichos hair transplant centres in Hyderabad.

Sterilization of donor & recipient sites

 

One more pre-surgical step before kick-starting the fue hair transplant process is sterilizing both donor and recipient sites including trimming of hair from the scalp region.This is done by washing the scalp with sterilized betadine solution.

Making an incision in recipient site under anaesthesia

 

Without administering local anaesthesia, grafting of hair follicles for a fue hair transplant is not advisable.For this, our hair transplant surgeons need to make minute incisions and slits with sterilised surgical equipment on the recipient site before harvesting hair grafts from the donor region.

Hair grafts extraction from the donor region

This is the most important phase in fue hair transplantation process as this is when Trichos hair transplant experts take recourse to the Root by Root technique to extract the best of the best permanently growing hair roots from the donor region.Using a small punch, harvesting of hair grafts from the donor area is undertaken with sterilised instruments under local anaesthesia. The collected hair grafts are preserved in a special chemical fluid to prevent damage to the roots.

Time for a small break

 

Before resuming the fue surgery further, usually, a small break is taken so that the patients and the medical team can have some snacks & refreshments before proceeding with the hair implantation.

Final Step: Hair Transplantation

 

This is the most tasking phase of fue hair transplant technique as harvested hair follicles are transplanted into the incisions made on the patient's recipient site of the scalp carefully.Done under local anaesthesia, the goal of Trichos hair restoration surgeons in Hyderabad with the last step is to ensure one gets a flawless procedure
When our advanced Root by Root system is blended with a fue hair transplant, it is but natural for male pattern baldness or female pattern baldness patients to get the best hair transplant results.
There are complex technicalities involved in the final step but all them are meticulously followed by Trichos hair transplant doctors in Hyderabad including our policy to provide an affordable solution by maintaining ethical standards of treatment.
We at Trichos take extra care to maintain the ideal depth at which the graft has to be positioned before transplanting it at a certain angle. Don't worry! There won't be any hair transplant side effects.
Book an appointment today with Trichos experts to explore if you are eligible for a fue hair transplant.
Janardhan P KPHB Colony
Trichos Root by Root fue hair transplant has given me the best results. The professionalism and expertise of Trichos are unmatched, really.
Ashok M Koti
For my hereditary baldness treatment, Root by Root fue hair transplant at Trichos has improved my confidence tremendously. Thank you, Dr John for your patience and high-level skills.
Manish K Narayanguda
My look has totally changed! I was worried over scar marks post fue hair transplantation, but Trichos Root by Root fue hair transplant has given me a complete scarless surgery. Thank you.