Trichos Female Hair Loss Treatment in Hyderabad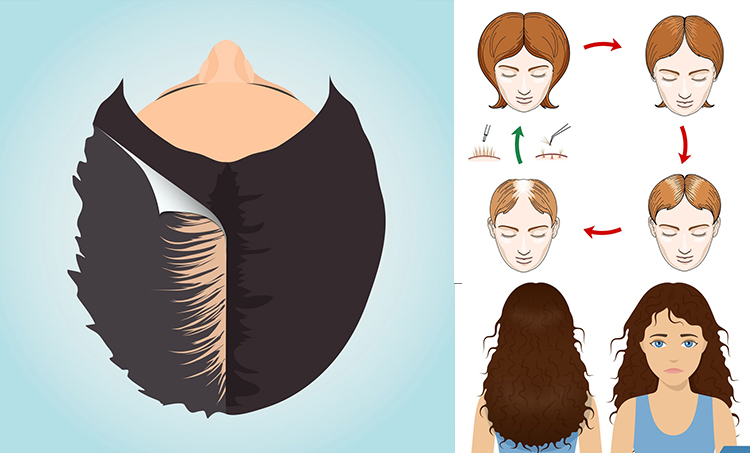 Female hair loss treatment needs complex handling by experts. Reason: Even when they turn before the best hair doctors for women, it is often the very late stage of their alopecia condition.
Early diagnosis is crucial for best hair restoration for women. We at Trichos have the best hair doctors for women, providing a range of hair loss treatment for women.
There's a growing number of female hair transplant testimonials – many of whom battling different  – as ample proof of Trichos as the best hair fall treatment clinic in Hyderabad.
It is a known fact that untreated female baldness causes push them into a vortex of depression, which may affect their confidence level further if alopecia treatment is not initiated.
Thanks to Trichos Root by Root system, one can expect excellent hair loss treatment for women at an affordable cost.
We at Trichos have the best hair doctors for women in Hyderabad to make an accurate diagnosis of all known female baldness causes.
Female Pattern Baldness: Trichos Solutions
Heredity-linked hair loss in women is known as female pattern hair loss or female androgenic alopecia.
While Trichos offers our proven advanced Root by Root techniques for hair restoration for women, what one needs to understand is that features of thinning hair women are a little different than what one notices in male pattern baldness.
Popularly known as the postmenopausal pattern, the characteristics features of female pattern baldness is diffuse thinning and hair miniaturization on the back of the scalp.
What's needed is effective steps for hair loss prevention for women soon after they enter the postmenopausal phase. This is because the female estrogen hormone loses its efficacy in battling hair loss condition during this phase of change.
In general, the Norwood classification is used to demarcate the level of male pattern baldness, but the same method is not used for measuring female androgenic alopecia.
Instead, hair experts use another mode of classification known as Ludwig classification to measure the extent of hair loss in women.
This is a protocol that not even the best hair doctors for women can afford to ignore before initiating hair loss treatment for women.
Depending upon the availability of donor hair, the specific Ludwig type hair loss one has and the specific Root by Root method one opts for, Trichos best hair doctors for women will take up harvesting process for transplantation.
In all, women hair loss types are divided into three under as per Ludwig system of classification: Ludwig type I, Ludwig type II and Ludwig type III.
Non-Surgical hair loss treatment for women
Sometimes, hair transplants are not recommended if Trichos hair experts for women in Hyderabad find upon clinical examination that hair restoration for women is possible with hair fall medicine.
Widely-used medicines for hair fall control in women include hair growth vitamins, biotin hair growth, DHT blocker and Trichos Bioject, the most advanced PCI hair treatment in Hyderabad.
There are also scalp diseases and several other causes of hair loss in women for which Trichos hair restoration doctors in Hyderabad prescribe the best medicine for hair fall and regrowth.
They include a host of autoimmune diseases, bacterial & fungal infections, dermatitis, anaemia, thyroid hair loss, DHT hormone induced hair loss & dandruff hair loss.
We also offer hair regrowth treatment for a variety of nutritional hair loss diseases such as anaemia, iron deficiency and vitamins for hair loss conditions after an accurate diagnosis with Trichos Root Cause, our state-of-the-art hair loss cause analyzing technique.
For more information concerning hair loss prevention for women, call Trichos hair experts today.
Deepti S Madhapur
Not every other hair transplant centre can provide flawless hairloss treatment for women but Trichos is different. They have some of the best hair doctors for women in Hyderabad. Excellent service.
Anshu P Toli Chowki
I was looking for preventive hair fall medicine as I did not want to undergo a hair transplant surgery. I landed at Trichos after one of my relatives recommended their expertise. Nice service.
Priya Jubilee Hills
For best hair loss treatment for women in Hyderabad, Trichos has no other alternative. I am glad I trusted Trichos. Thanks for giving me the results I had expected.