Best Hair Clinic in Hyderabad For Androgenic Alopecia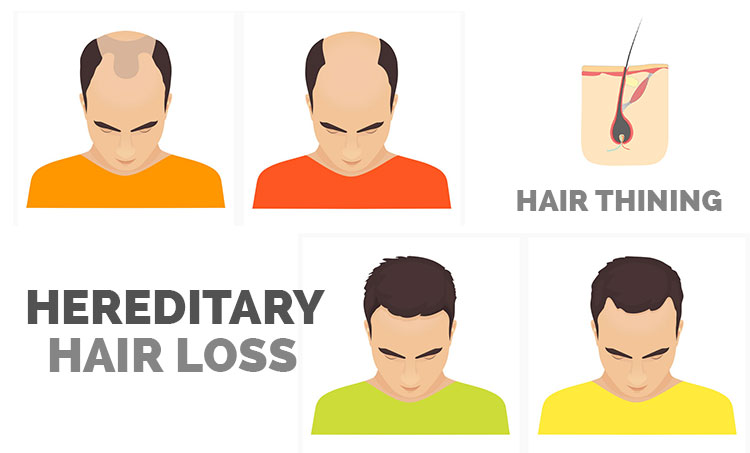 The hereditary form of baldness is the most dominant  in men and women across the world.
This hair loss cause is so universal that the percentage of affected thinning hair men and women could be in the range of 70-90%.
There is progressive hair loss in the hereditary form of baldness that includes both male pattern baldness and female pattern baldness, affecting men and women equally.
In the first stage, the receding hairline appears at an early stage preferably in one's mid-20s, followed by progressive hair thinning on the crown. While in the final stage, the hair density getting reduced by 50 per cent.
Known as Androgenic Alopecia, hereditary hair loss treatment is a must before one can expect natural hair regrowth with quality hair transplant results.
What better hair than Trichos for treatment of Androgenic Alopecia.
Reason: We have the best trichologists in Hyderabad, providing one affordable treatment & quality treatment.
Don't waste time by experimenting with home remedies for hair growth as a hereditary form of baldness is not a reversible process but can be delayed further with the best medicine for hair fall and regrowth.
If you are planning a fue hair transplant in Hyderabad at Trichos as a makeover for your thinning hair on the crown, we can guarantee you excellent fue hair transplant results.
Best time to take a call for Androgenic alopecia
The wakeup calls for Androgenic alopecia should be soon after one notices hair shedding in the shower as no hair fall prevention technique or cover up a mechanism like combing one's hair side-to-side or hair straight back can work in case of hereditary baldness.
The other important cue that can help to make up one's mind to visit a hair restoration clinic is a family history of baldness. It is proven that Androgenic Alopecia runs in the family but in some individuals, the hair loss symptoms may appear too soon.
This happens due to triggers like acute stress as it can hasten the balding process in thinning hair women and men.
Hereditary Hair Loss: The rarest type
Hypertrichosis is one of the rarest hereditary reasons for hair loss that is known to affect one in 340 million people.
In hypertrichosis, there is excessive hair growth on a specific part of one's body. It's a rare disorder that goes by several terminologies such as ambras syndrome or werewolf syndrome for which one needs to take recourse to hair removal techniques.
Rajneesh Jha Bihar
My baldness was hereditary in nature and was looking for preventive hair loss treatment before I stepped into Trichos at Hyderabad. The doctor did a fairly good job. Thank you
Sampath K Jubilee Hills
The Root by Root fue hair transplant totally gave me a totally new makeover. I look 5 years younger now. Thank You, Trichos
Rajesh S Ameerpet
For hereditary hair loss, Trichos hair transplant centre has the best treatment options. I had a wonderful experience.For hereditary hair loss, Trichos hair transplant centre has the best treatment options. I had a wonderful experience.