Best Treatment For Lichen Planopilaris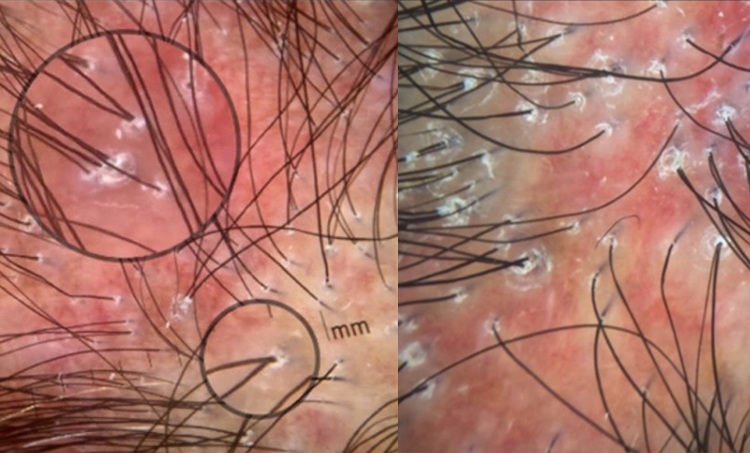 If you have pain and burning sensation on the scalp accompanied by bald patches, you need to watch out. Reason: They could be symptoms of Lichen Planopilaris, one of the rare causes of hair loss in women.
Instead of trying home remedies for hair loss, try best treatment for Lichen Planopilaris at  with our proven hair growth medicine.
Lichen Planopilaris: Causes
There is mystery behind what actually causes Lichen Planopilaris but it's understood that it is an auto-immune skin disease where one's healthy hair follicles are attacked by one's immune system led by lymphocytes.
Lichen Planopilaris: Diagnosis
Known to be one of the hair loss causes in women, hair loss prevention becomes tricky in untreated Lichen Planopilaris as being an inflammatory skin condition, this condition may cause a severe form of baldness on the affected regions.
Not all hair specialists in Hyderabad have the requisite skill & training to diagnose the condition without resorting to trial and error as its symptoms often mimic other scalp diseases. But, Trichos hair experts never fail.
One needs to understand that in an advanced form of the disease, Lichen Planopilaris can manifest as Cicatricial Alopecia or scarring alopecia. It may also leave one's receding hairline exposed.
Trust  for best hair loss prevention as our experts know exactly how to halt the damage to your hair follicles in Lichen Planopilaris.
It's all thanks to Root Cause, a state-of-the-art hair loss cause analysis technique developed by Trichos experts.
Besides clinical examination, Root Cause involves a unique diagnostic solution for best scalp investigation to pinpoint Lichen Planopilaris before initiating the best hair loss treatment.
Lichen Planopilaris: Treatment
Lichen Planopilaris leads to the formation of lesions on the affected regions that need to be clinically examined for appearance of bald patches on the scalp before zeroing in on the right hair fall treatment.
Delay in the treatment of Lichen Planopilaris can backfire as bald patches can get bigger, ensuring that all future hair fall solution may become difficult to undertake.
Janardhan S Kukatpally
Highly impressed with the high-level skill and professionalism exhibited by Trichos staff. Wishing the entire team all the best. Thank you!
Aniketh K Banjara Hills
From consultation to scalp investigation to prescribing hair fall prevention medicine, Trichos staff exhibited professionalism at every step. My hairloss condition has been resolved effectively. Thanks Trichos.
Tirupati S Secunderabad
The outcome of my fue hair transplant surgery was excellent. I am on a new high seeing hair regrowth post-surgery. Thank you, Dr John.