Best Baldness Treatment With Scalp Micropigmentation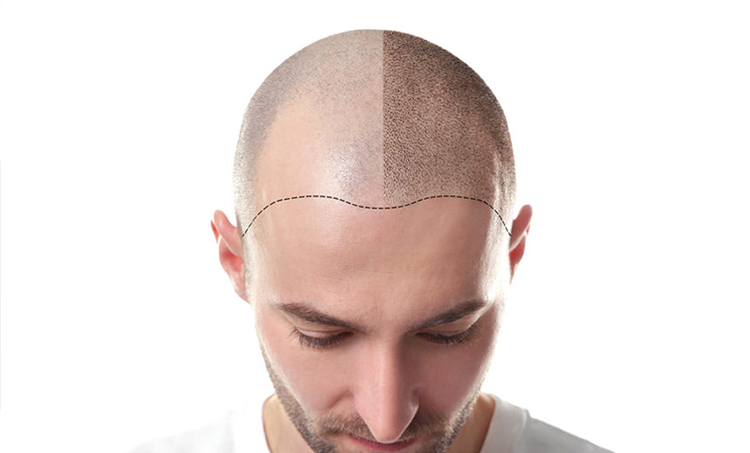 It's the availability of donor hair that decides the hair density one can achieve with our trademarked Root by Root advanced  procedure in .
But in certain scenarios such as when an alopecia patient has limited donor hair on scalp for grafting on to the recipient site, even the best hair restoration surgeons in Hyderabad can be found struggling in giving natural-looking dense hair transplant results.
While body hair transplant can be an alternative hair baldness treatment for those without enough donor hair on the scalp, it may not be practically feasible for all alopecia patients.
This is where scalp micropigmentation technique can come to one's rescue as it can be perfected to ingeniously cover up the scalp of thinning hair men with dense looking hair growth, courtesy hair tattoo artists!
Baldness Solutions With Hair Art in Hyderabad
We at Trichos help you access the best hair art for baldness treatment in Hyderabad that blends scalp pigmentation so well with your naturally growing hair that it becomes difficult for anyone to detect that it's artistically recreated hair art.
With professional hair tattoo artists leading the way, scalp micropigmentation in Hyderabad is now picking up the pace.
Though Trichos Root by Root Dense method is one of our most preferred advanced fue hair transplantation variation that provides hair follicle density, scalp pigmentation can be an integral part of one's baldness treatment.
If both the procedures are combined, one can make one's hair appear dense on the scalp. Such a strategy can effectively conceal one's receding hairline besides covering up any scars left on the scalp.
Scalp Micropigmentation: Advantages
What makes scalp micropigmentation the best artificial hair loss treatment is that there is no possibility of leaving any hair transplant side effects.
When high-quality hair tattoo colours are used that matches one's hair, it can effectively match up to what conventional hair transplant results provide.
For those not getting the desired makeover from a hair transplant procedure even after repeat sessions, scalp micropigmentation can do wonders. It can effectively lower one 's hairline mark by artistic concealment.
For more information about hair loss treatment in Hyderabad with scalp micropigmentation process, book a consultation with Trichos advanced hair transplant experts today.
James A Kakinada
Scalp art gave me the required hair density, complementing my fue hair transplant surgery. Thank you Trichos.
Jaideep M Chandanagar
No artificial hair loss treatments available in the market appealed to me as I was not convinced of their effectiveness. My experience at Trichos was different in this regard.
Sirish N Vizag
The planned approach at which Trichos kept me at ease before and after the hair transplant surgery is commendable. Thank You.