Seborrheic dermatitis treatment in Hyderabad: Trichos Solutions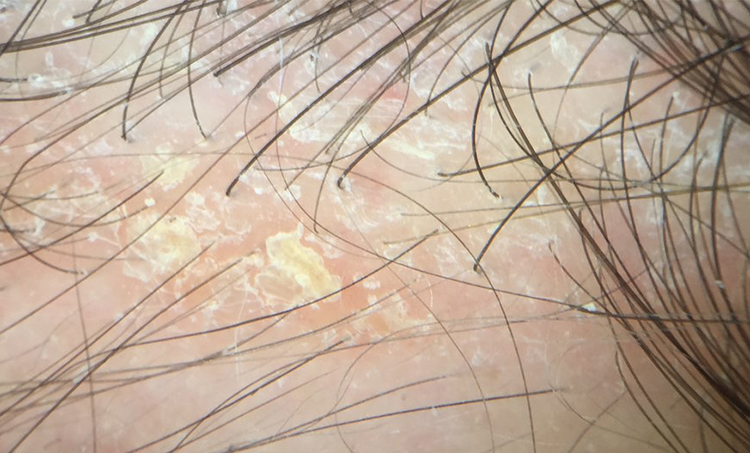 Skin disorders that affect the scalp need right hair & skin experts to diagnose the problem before appropriate medicine for hair fall control can be advised.
Seborrheic dermatitis is one such skin disease that calls for expert treatment as this is one of the reasons for hair loss that even affects children.
What is Seborrheic dermatitis?
If you are middle-aged and notice scales-like growth on your scalp that sheds off with accompanying itchiness & reddish patches on your skin, it may be symptomatic of Seborrheic dermatitis.
Unlike dandruff hair loss, the condition in Seborrheic dermatitis gets aggravated as flaking of the skin may take place on the body with inflammation and resultant hair loss from the scalp.
While people try home remedies for hair loss in Seborrheic dermatitis treatment, it does not always work.
We at Trichos hair transplant centre in Hyderabad provide dermatological solutions at our clinics for seborrheic dermatitis treatment in Hyderabad. It can help one to get over their scalp woes with excellent medicine for hair fall control.
What happens in seborrheic dermatitis?
The consequence in seborrheic dermatitis is like what one witness in  but the severity is more.
This is because not only scalp hair, but the condition also affects body parts like face, chest and back with the appearance of dry or oily-scaled flakes on the affected areas.
Seborrheic dermatitis: Causes
You may want to get your baldness problem cured by the best  but if you are diagnosed with seborrheic dermatitis, the first step towards your treatment is getting it diagnosed.
It may be of no help to know that the cause of seborrheic dermatitis remains a mystery but it's believed that a fungus identified as Malassezia is the culprit for this type of hair loss treatment.
This is not all as other causes for seborrheic dermatitis that are attributed includes stress, poor immunity, nutrition deficiency & hormonal problems for triggering hair loss condition.
Seborrheic dermatitis: Treatment
The first course of action is a usually symptomatic treatment if the diagnosis is not confirmed.
Though medicine for hair fall control is what's prescribed if you were to visit a hair treatment clinic in Hyderabad with above-listed symptoms for seborrheic dermatitis, what's needed is to treat fungal infection first.
This will reduce the itching sensation and the problem of flakes shedding will recede automatically.
For more information, book a session with Trichos experts today.
Kalyani S Basheerbagh
It was almost magical in the way Trichos treated my dandruff hairloss problem. The shampoos I was using did not work at all but went on to aggravate my condition. Thank you, Trichos
Jaya Iyer Madhapur
I was scared that my hairloss condition was irreversible but Trichos helped me regain my confidence. Within two months of taking hair fall medication, my problem was resolved completely. Highly recommended.
Suresh K Himayatnagar
Trichos hair transplant clinic provides hassle-free hairloss treatment solutions. I am highly impressed with the level of dedication shown by your staff.