Trichos Hair Transplants in Jubilee Hills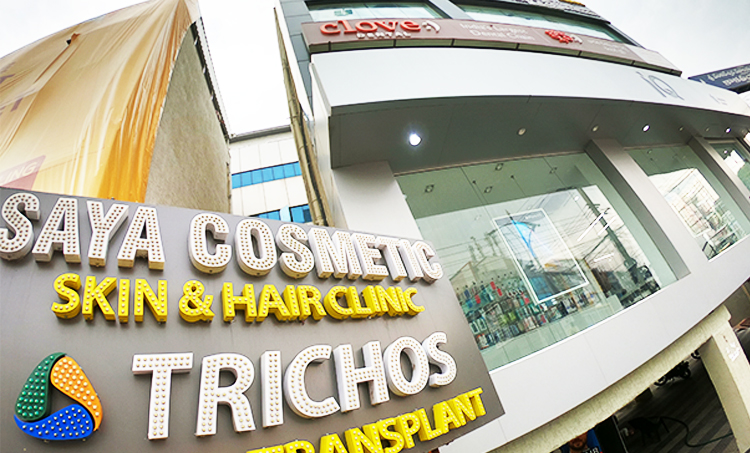 It's not always one gets to undertake a hair transplant surgery whenever one wishes as high hair transplant cost in Hyderabad often comes as a hurdle.
It is a fact that one wrong move in hair loss treatment may not only make a dent to one's hard-earned money, but one may be hard hit with very poor hair treatment result.
For a change, step into Trichos Jubilee Hills for a second opinion to understand how trust, commitment, ethics and professionalism drive our hair transplant surgeons in Hyderabad Jubilee Hills centre.
Of course, there are too many hair transplant options but what one needs is an honest assessment of the technique that can ensure the best hair fall treatment customized for an individual. We at Trichos do this for you.
Trichos Jubilee Hills: The landmark for Best Hair Transplant
Thanks to our Root by Root innovative hair restoration technique, Trichos is now counted among the Best Hair Transplant Clinics in Jubilee Hills.
Best known as Dr John Hair Transplant, Trichos Root by Root is the advanced hair treatment available across all our three hair transplant centres in Hyderabad – ,  & .
It is nothing, but zero hair loss surgical transplantation technique perfected by the best hair restoration doctors in Hyderabad led by Trichos founder Dr John W.
We at Trichos offer three different variations of Root by Root hair transplant techniques based on the specific requirement of alopecia patients for that perfect fue hair transplant result while keeping hair transplant cost in Hyderabad affordable.
In this technique, the best of the permanent growing hair roots are harvested for hair transplantation by Trichos experts on the patient's recipient region of the scalp.
Root by Root Techniques
While maintaining ethical standards, Trichos always ensures that our best hair transplant surgeons in Hyderabad provide advanced hair treatments through our tried and tested Root by Root techniques.
Different Root by Root hair restoration procedures offered at Trichos Jubilee Hills includes Root by Root Total, Root by Root Dense and Root by Root Exclusive.
These techniques – which are an improvisation of the well-known ,  &  – ensure alopecia patients get decent hairline to restore their confidence.
Root by Root Total:
No other hairline treatment in Hyderabad can match up to what Trichos offers with its zero-hair loss transplantation technique.
In Root by Root Total, our best hair transplant surgeons in Hyderabad ensure larger areas of baldness gets covered by harvesting more number of permanently growing living roots.
Root by Root Dense:
If you are still clueless about a safer and cost-effective hair loss treatment in Hyderabad, Trichos Root by Root Dense has no alternative. In this technique, Trichos hair transplant experts bulk up the thinning hair scalp to ensure it not only looks natural but also dense and full of healthy hair growth.
Root by Root Exclusive:
In this hair transplant surgery in Hyderabad that's exclusively offered at Trichos, our hair experts combine both Root by Root Total and Root by Root Dense methods to give the alopecia patient the best fue hair transplant results.
Non-Surgical Hair Treatment: Trichos Jubilee Hills
The Trichos edge is not confined to only surgical hair transplant procedures as our hair restoration surgeons in Hyderabad also offer state-of-the-art non surgical hair treatment techniques across all our hair clinics in Hyderabad.
Root Bioject Platelet Concentrate
Besides Trichos Root Bioject – an improvisation of PCI hair loss treatment– our hair restoration experts in Hyderabad also offer hair regrowth treatment including hair fall medicine & DHT blocker for healthy hair regrowth.
Though Trichos always aims at keeping hair transplant cost in Hyderabad affordable, it does not happen at the cost of cutting down individualised attention.
Book a session with Trichos hair transplant experts at our Jubilee Hills centre for more information about the range of hair loss treatments we offer.
PCI : Platelet Concentrate Injection
Sreenivas Rao Jubilee Hills
It was for a second opinion to explore a corrective hair restoration surgery that brought me to Trichos Jubilee Hills centre. I am very satisfied with the outcome. Thank you, Dr John.
Ravinder K Jubilee Hills
I underwent Root by Root bio fue hair transplant at Trichos centre at Jubilee Hills. Quite pleased with their detailed approach in the way they get things done here.
Jyoti M Jubilee Hills
Trichos is the best hair restoration clinic in Jubilee Hills. The results from Root Bioject treatment is above my expectations. Would give five stars!